The Swisher ZT2452A Ride King zero turn lawn mower is another large machine from the team at Swisher that is popular among both commercial landscaping crews as well as homeowners with large lawns to cut. The engine that powers the ZT 2452A is a Briggs and Stratton 2 cylinder that provides the lawnmower with 24 hp. This engine is key started with the help of a 12 volt battery and is a 4 stroke. The engine gets fuel from a gas tank that has a capacity to hold up to 15.1 liters (4 US gallons). There is no steering wheel on the lawn mower due to the simple fact that using 2 lap bars is much easier when it comes to controlling the speed and direction of the wheels.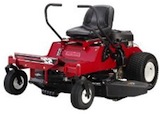 Using a dual hydrostatic transmission on the Swisher ZT2452A means that you have the ability to control how much power each back wheels gets. It's this ability to control the amount of power to each rear wheels that allows you execute zero radius turns with ease on the ZT 2452A. The top speed of the mower going forwards is 9.7 kph (6 mph) in both forwards and reverse. Larger and more powerful models than this one are the Swisher ZT2866 and the Swisher ZT2760B zero turn mowers.
The mower deck on the Swisher ZT2452A zero turn lawnmower has a cutting diameter of 52 inches, although it's total width is far greater thanks to the plastic discharge flap on the side of the mower deck. The mower deck on the ZT 2452A Ride King lawnmower is fabricated from 11 gauge welded steel for strength. The 3 blades in the mower deck are not normal blades, but rather special mulching blades to turn the cut grass clippings into a fast rotting and nutritious mulch. Raising and lowering of the mower deck is done by a spring assisted hand lever over a range of 3 inches in 0.5 inch increments. Click Here to buy the Swisher ZT2452A.
Return to Swisher from Swisher ZT2452A Zero Turn Lawnmower
Have Your Say! Leave A Review Do you love or hate this tractor? You can have your say below by leaving review.