The Swisher ZT2866 zero turn lawnmower gets it's power from a Briggs and Stratton engine. This is a twin cylinder engine that provides an impressive 28 hp to the wheels and blade on the ZT 2866. The 4 stroke engine uses overhead valves and a full pressure lubrication system to prevent excessive wear and tear on the moving parts. The engine is keystarted using a 12 volt battery that comes with the mower when you first buy it. As this is a zero turn lawnmower, it's obviously a hydrostatic, which means that means that you'll never have to change gears on it.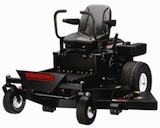 Instead, the operator has 2 lap bars in front of him when he is sitting on the Swisher ZT2866. Pressing both forward makes the lawn mower go forwards, while pulling both backwards allows it to reverse. When the operator pushes each lap bar in opposite directions, it allows the ZT-2866 to make a turn with a zero radius. In other words, it allows you to turn on a dime. This hydrostatic transmission gives the lawnmower a top speed of 9.7 kph (6 mph) in both forwards and reverse. Both power and turning is controlled by the rear wheels. This is why they are so big, measuring 20×10 (20 inch diameter, 10 inch width), while the front wheels, which really only keep the mower deck from hitting the ground below measure 11×4 (11 inch diameter, 4 inch width).
The mower deck on the Swisher ZT2866 has a very large cutting width of 66 inches. The mower deck houses 3 blades which are also part of a mulching system that quickly turns the grass clippings into a highly nutritious mulch. The mower deck is made from 11 gauge steel. It has 8 different cutting positions from a high of 5.75 inches above the ground to a low of 1.5 inches above the ground. Click Here to buy the Swisher ZT2866.
Return to Swisher from Swisher ZT2866 Zero Turn Lawn Mower
Have Your Say! Leave A Review Do you love or hate this tractor? You can have your say below by leaving review.