The Poulan Pro PB23H48YT garden tractor lawn mower is a fairly large and powerful machine from the team at Poulan. It uses an Intek engine from Briggs and Stratton which provides the lawnmower with 23 hp from a total engine size of 0.724 liters. The 2 cylinder engine is air cooled and is started by a 12 volt battery which provides 16 cold cranking amps. The air intake into the engine is filtered through a paper air filter which removes dust and other smaller particles, preventing them from potentially clogging the engine. The engine on the Pro PB 23H 48YT uses a fully pressurized lubrication system to keep the moving parts from excessive wear and tear.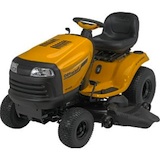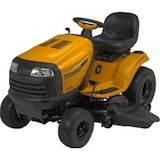 The fuel tank, located in the rear of the Poulan Pro PB23H48YT can hold a maximum of 11.4 liters (3 US gallons) of gasoline. The engine powers the wheels of the Poulan 48″ garden lawnmower by transferring power through a K46 Tuff Torq hydrostatic transmission. This transmission give the lawnmower unlimited speeds going forwards and in reverse also, making it an automatic with a top speed of 8.4 kph (5.2 mph) going forwards and 4.7 kph (2.9 mph) when it's reversing.
The Poulan Pro PB23H48YT lawn tractor has a 48 inch cutting width. The total width of the mower deck is actually greater than this due to the plastic flap on the side which prevent debris from flying everywhere. The deck itself is made from stamped steel and can be positioned at 6 different cutting heights ranging from a low of 1.5 inches above the ground to a high of 4 inches above the ground. All raising a lowering of the mower deck is done by a fender mounted lever that is spring assisted. The mower deck houses 3 Hi Performance type blades. On the edge of the mower deck are 4 anti scalping wheels to prevent it from cutting into the lawn and leaving ugly scars. Other Poulan models that you may be interested in are the Poulan Pro PB22H46YT and the Poulan Pro PB26H54YT tractor mowers. Click Here to buy the Poulan Pro PB23H 48YT.
Return to Poulan from Poulan Pro PB23H48YT Garden Tractor
Have Your Say! Leave A Review Do you love or hate this tractor? You can have your say below by leaving review.