The Yard-Man 13AC76LF055 garden tractor lawn mower is similar an many ways to a lot of other Yard-Man machines. It gets it's power from a Briggs and Stratton gasoline engine. This engine is a lot smaller than those that you will find on practically every other garden tractor (regardless of brand). The engine has a displacement of only 0.344 liters. This produces just 12.5 hp. The Yardman 12.5 hp, 38″ model is not sold in California due to the fact that it's not CARB compliant.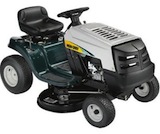 Power from the Briggs and Stratton motor gets to the wheels on the Yard-Man 13AC76LF055 by first passing through a 6 speed, manual gear shift transmission. Power is transferred the rear wheels, each of which measure 16×8 (16 inch diameter, 8 inch width). The front wheels are responsible for guiding the Yardman 38 inch lawnmower. Each front wheel measures 13×6 (13 inch diameter, 6 inch width). Similar, but more powerful models to this one is the Yard-Man 13AM772S055 lawnmower.
The mower deck on the Yard-Man 13AC76LF055 lawn tractor has a cutting width of just 38 inches (although it's total width is far greater than this due to the plastic discharge flap located on the side of the deck). The fuel tank which feeds the engine with gasoline holds up to 5.7 liters (1.5 US gallons). When buying this Yardman garden tractor lawnmower, it comes with a 2 year limited warranty for people who purchase it only for personal residential use. Please leave your thoughts on this lawnmower below so that others have an idea of how it performs before buying it. Click Here to buy the Yard Man 13AC76LF055.
Return to Yardman from Yard-Man 13AC76LF055 Lawn Mower
Have Your Say! Leave A Review Do you love or hate this tractor? You can have your say below by leaving review.