The Yard-Man 13AM772S055 42″ garden tractor lawn mower is powered by a gasoline powered Briggs and Stratton engine. This engine has a total displacement of 0.580 liters which allows it to produce a power output of 15.5 hp. Unfortunately this engine is not CARB compliant. This means that due to it's emissions, it's not permitted to be sold in the state of California. Power produced by the engine powers both the mower deck and the wheels. The engine transfers power to the wheels through a gearshift transmission that gives the Yard-Man 42″ lawnmower 6 speeds traveling forwards and one for reversing.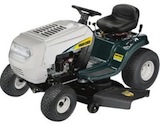 The rear wheels through which power is transferred on the Yard-Man 13AM772S055 are 20×8 in size (20 inch diameter, 8 inch width) while the front wheels which are responsible for steering the lawn tractor each measure 15×6 (15 inch diameter, 6 inch width). When purchasing this lawnmower brand new, it comes with a 2 year limited warranty for individuals purchasing it solely for personal, residential use.
The mower deck on the Yard-Man 13AM772S055 consists of 2 blades that work together more effectively than a single mower blade would on it's own. Attached to the leading edge of the mower deck are 2 small anti-scalping wheels that keep the lawnmower consistently elevated over the lawn you are cutting even if it's particularly lumpy. If you have ever owned or operated this lawnmower, then please leave a review of it below so that others can get an idea of what it's like. Click Here to buy the Yard Man 13AM772S055.
Return to Yard-Man from Yard-Man 13AM772S055 Garden Tractor
Have Your Say! Leave A Review Do you love or hate this tractor? You can have your say below by leaving review.