The Yard Machines 13AN772G700 17.5 hp, 42″ garden tractor lawn mower is another quality piece of machinery from the team at Yard Machines, which is actually owned by MTD. This lawn mower has a Briggs and Stratton gasoline engine . This engine has a total displacement of 0.502 liters. The engine draws fuel from a fuel tank that can hold up to 5.7 liters (1.5 US gallons) of gasoline. Power from the engine is directed into a 7 speed gearbox where it then gets diverted to the wheels. The rear wheels measure 20×8 (20 inch diameter, 8 inch width). The front wheels are smaller, measure 15×6 (15 inch diameter, 6 inch width) as they carry less weight and are only responsible for steering the machine, not powering it forwards.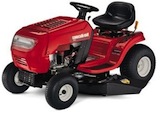 The mower deck on the Yard Machines 13AN772G700 has a cutting width of 42 inches. This mower deck houses twin blades the work together more efficiently than a single blade on it's own. One of the cool things about the Yard Machine 42″ garden tractor lawnmower is that it uses "shift-on-the-go" technology which allows the operator to change gears without the need to use a clutch. Unfortunately the engine powering this lawnmower is not CARB compliant and as a result it's not available in California.
The Yard Machines 13AN772G700 42″ lawnmower is fairly small when compared to a lot of other machines. However it is a lot bigger than the very small Yard Machines 12AC762F000 garden tractor lawnmower. Importantly, the Yard Machines 42 inch lawnmower has the option of using a rear attached bagger to collect the grass clippings as well as a mulching plug so that you can turn the clippings into a fast rotting pulp which 'feeds' your lawn. If you have ever owned or operated this garden tractor lawn mower, then please leave a review of it below making sure to outline both the positive and negative experiences you had with it. Click Here to buy the Yard Machines 12AN772G700.
Return to Yard Machines from Yard Machines 13AN772G700 Garden Tractor Lawnmower
Have Your Say! Leave A Review Do you love or hate this tractor? You can have your say below by leaving review.