The Poulan Pro PB2042YT garden tractor lawnmower is a part of the Pro range of garden tractors from Poulan. This lawnmower gets it's power from a Briggs and Stratton engine that supplies the blades and wheels with 20 hp. This engine is unfortunately not CARB compliant, so if you are from California, you will be unable to purchase this machine. There are other Pro models that are CARB compliant like the Poulan Pro PB22H46YT, the Poulan Pro PB23H48YT and the Poulan Pro PB26H54YT garden tractors. The fuel tank on the PB 2042 YT can hold a maximum of 9.5 liters (2.5 US gallons) of gasoline.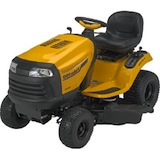 The Poulan Pro PB2042YT controls it's speed using a 6 speed gearbox. This means that when you want to speed up and slow down, you will have to change gears. The mower deck on this Poulan Pro lawnmower has a cutting width of 42 inches, but it's total width is about 10 inches greater than this thanks to the plastic discharge chute on the side. Controlling this lawn tractor is very straightforward thanks to the ergonomic steering wheel and large, 18 inch diameter rear wheels.
The seat on the Poulan Pro PB2042YT features a high back to offer great support in times that you have to use it for extended periods. You will notice a number of small plastic anti scalping wheels attached to the edge of the mower deck. The purpose of these is to prevent the blades from 'scalping' the ground (scaring the ground) when you are traveling over particularly uneven ground. In other words, they force the mower deck to follow the contours of the ground when the mower deck is set at a low cutting height. Make sure to leave you thoughts below on the Poulan Pro 42″ lawn mower. Try to include details on both what you liked and what you didn't like about it. Click Here to buy the Poulan Pro PB20442YT.
Return to Poulan from Poulan Pro PB2042YT Lawn Mower
Have Your Say! Leave A Review Do you love or hate this tractor? You can have your say below by leaving review.