The Swisher ZT2766KP zero turn lawn mower is one of the largest and most powerful lawnmowers that you can buy from any brand or manufacturer. This is due to both it's large engine with produces 27 hp and thanks to it's very wide 66 inch mower deck. Due to the size of the ZT 2766KP, it makes little sense to purchase it for residential use. Instead, most people who buy it are commercial contractors or professional landscapers. The engine powering the lawnmower is a twin cylinder Kohler Courage model that allows it to hit a top speed of 13.7 kph (8.5 mph) going forward, while in reverse, it's maximum speed is 6.4 kph (4 mph).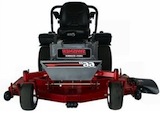 Power from the 27 hp Kohler engine gets transferred to the wheels on the Swisher ZT2766KP zero turn mower through a commercial grade dual hydrostatic transmission built by Eaton. How much power each rear wheel receives is controlled by the operator through the lap bars. The lap bars also control the direction of the rear wheels (forwards or backwards). The 66 inch mower deck on the ZT277 KP contains 3 Gator blades that mulch the grass clippings as they cut them. These blades are belt driven. Similar but smaller and less powerful models than this one from Swisher include both the Swisher ZT2352 and the Swisher ZT2052 zero turn lawnmowers.
The mower deck on the Swisher ZT2766KP zero turn lawnmower is raised and lowered using a spring assisted lever. It has a very high maximum cutting height of 5.75 inches and a minimum cutting height of 1.5 inches above the ground. A big indicator that the ZT-2766KP is intended for commercial contractors is the fact that it has 2 fuel tanks, each of which has a capacity to hold up to 22.7 liters (6 US gallons) of gasoline meaning that you won't have to regularly refuel it. This mower comes with a 150 hour/1 year limited warranty (whichever comes first) for people purchasing it for commercial use, while it comes with a 2 year limited warranty for people purchasing it for personal residential use. Click Here to buy the Swisher ZT2766KP.
Return to Swisher from Swisher ZT2766KP Zero Turn Lawnmower
Have Your Say! Leave A Review Do you love or hate this tractor? You can have your say below by leaving review.