The Swisher ZT2052 Ride King uses a Briggs and Stratton engine to power it. This gasoline engine has a power output of 20hp which powers both the wheels and the mower deck. The ZT 2052 then brings power from the engine to the wheels through a commercial grade dual hydrostatic transmission that is built by Eaton. This allows the zero turn mower to achieve a maximum speed of 9.7 kph (6 mph) going forwards and in reverse also. Unlike regular tractor lawnmowers, the ZT 2052 Ride King uses a set of lap bars to control how fast it travels and it's direction also. By pushing each lap bar in alternative directions you are able to execute zero radius turns with ease.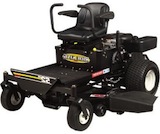 Hopefully you can guess from the name of the Swisher ZT2052 Ride King zero turn lawnmower that it has a cutting width of 52 inches. The mower deck houses 3 Gator made mulcher blades which quickly turn the grass clippings into a mulch. The mowing deck is raised and lowered on the lawnmower via a spring assisted hand lever that allows you to raise the mower deck to a maximum height of 5 inches when you are cutting particularly long grass. It allows you to move it down to a minimum height of just 1.5 inches above the ground when you want to make your lawn short and neat. The mower deck is made from 11 gauge steel.
It's very easy to fill up the Swisher ZT2052 with gasoline thanks to it's dual fuel tanks that each hold 7.6 liters (2 US gallons). When buying the ZT 2052 Ride King brand new, you will be glad to know that it comes with a 2 year limited warranty for the engine and a 3 year limited warranty for the transmission when purchasing it for personal, residential purposes. If you are purchasing it commercial purposes, it comes with a 1 year limited warranty. Click Here to buy the Swisher ZT2052.
Return to Swisher from Swisher ZT2052 Zero Turn Lawnmower
Have Your Say! Leave A Review Do you love or hate this tractor? You can have your say below by leaving review.