The Snapper LT130AWS garden tractor lawnmower is a fairly powerful model. This model is sometimes called the Snapper NXT2346 lawnmower. The mower deck on this model is fairly big, with a cutting width of 46 inches. It's total width is a good bit bigger at 57 inches due to the fact that the plastic discharge chute is located at the side of the deck. The mower deck uses a frame hung suspension which allows it easily follow the contours of the ground you are traveling over. The height of the mowing deck can be raised and lowered from a maximum cutting height of 4 inches above the ground to a low of 1.5 inches above the ground in 0.5 inch increments. The deck is raised and lowered via a spring assisted lever.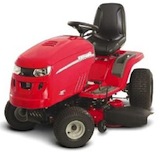 Steering on the Snapper LT130AWS is done with a pinion and sector gear system. The LT130 AWS has a top speed of 9 kph (5.6 mph) going forwards, while in reverse it can hit a top speed of 5.15 kph (3.5 mph). This is thanks to it's 23 hp engine. This is a Briggs and Stratton Extended Life Series engine that has overhead valves. It's a twin cylinder. The fuel tank on the LT130 is able to hold up to 10.6 liters (2.8 US gallons) of gasoline which would suggest that it's a lawn mower mostly used by individuals in residential settings.
The total length of the Snapper LT130AWS comes to 70 inches. It's quite a heavy machine, weighing in at 280.3 kg (618 lbs). If you are buying it for personal, residential use only, then it comes with a 2 year limited warranty, while if you are buying it for commercial use, then the warranty covers 90 days for the machine and 1 year (limited) for the engine. Click Here to buy the Snapper LT130AWS.
Return to Snapper from Snapper LT130 AWS
Have Your Say! Leave A Review Do you love or hate this tractor? You can have your say below by leaving review.