The Snapper NXT2346 garden tractor lawn mower is much more powerful than the Snapper NXT19542 ride on lawn mower but it's not quite as powerful as the Snapper NXT2752 lawnmower. All 3 lawnmowers are from the Snapper NXT range. The NXT 2346 has a 3 blade mower deck. This deck has a cutting width of 46 inches which is optimal for lawns between 0.75 and 4 acres in size. If the lawn is smaller, then you would be better off using a smaller push lawnmower, while if it's bigger then you are better off trying to find a tractor lawnmower with a larger cutting width.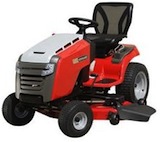 The Snapper NXT2346 lawnmower gets it's power from a Professional Series engine designed and built by Briggs and Stratton. This engine produces an output of 23 hp from it's 2 cylinders. The engine uses Briggs & Stratton's Electronic Fuel Management technology to operate more efficiently and save you money. The engine powers the wheels through a hydrostatic gearbox. This makes operating the NXT 2346 very easy as you don't ever have to change gears, you just need to use the foot pedals to change speed or reverse.
The are some pretty interesting features on the Snapper NXT2346 ride on lawnmower. One is the mesh seat, which may look odd at first glance, but actually offers fantastic back support as well as being completely breathable.  There is also a clever digital dashboard that lets you know when the fuel level is running low or when it needs to be brought in to be serviced. Another cool piece of technology on the NXT 2346 is the push button starter system that makes starting the lawnmower incredibly easy. If you own or have used this lawnmower, then make sure to let people know of your experience by leaving a review below. Click Here to buy the Snapper NXT2346.
Return to Snapper from Snapper NXT2346 Tractor Lawn Mower
Have Your Say! Leave A Review Do you love or hate this tractor? You can have your say below by leaving review.