The Husqvarna YTH2454 gets it's power from a Briggs and Stratton gasoline engine. This is a 2 cylinder, air cooled model that has a power output of 24 hp. This engine then transfers power to the wheels through a hydrostatic transmission. This hydrostatic transmission makes operation the YTH 2454 very easy thanks to the fact that you never have to change gears. Instead of changing gears, you just have a forwards/reverse pedal to control your speed. The engine is started electrically with a key start ignition.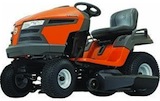 The mower deck on the Husqvarna YTH2454 has a cutting width of 54 inches, which is hopefully apparent from the name. The mower deck houses 3 blades which make for a much more even and smooth cut when compared to a similar sized mower deck with only 2 or just one single mower blade. The mower deck can have it's height adjusted from a cutting height of 3.5 inches above the ground to a low of 1.5 inches above the ground. This means that even if the lawn you are cutting is particularly long or wet, you will be able to set a cutting height that can easily handle it. For dealing with the grass clippings, you can use a mulching kit to turn them into a nutritious mulch or you can use a bagger to collect them to leave your lawn looking very neat and tidy. The mower deck has a number of small, plastic anti-scalping wheels which help to prevent it from scraping the ground it's traveling over.
The shipping weight of the Husqvarna YTH2454 comes to 269.4 kg (594 lbs). The minimum turning radius of the YTH 2454 is very low, coming in at just 16 inches which means that it's fairly easy to navigate through tighter areas. The fuel tank on this model can hold up to 11.4 liters (3 US gallons) of gas. Click Here to buy the Husqvarna YTH2454.
Return to Husqvarna from Husqvarna YTH2454 Lawn Tractor
Have Your Say! Leave A Review Do you love or hate this tractor? You can have your say below by leaving review.