The Husqvarna YTH2246 garden tractor lawn mower uses a Briggs and Stratton Intek motor to power it.  This is a 2 cylinder gasoline engine that uses a fully pressurized lubrication system to prevent the moving parts from excessive wear and tear. The output from the engine is 22 hp. The engine transfers power to the wheels through a hydrostatic transmission from Hydro-Gear. This transmission means that the speed of the YTH 2246 is controlled only by the foot pedals, there is no manual gear changing at all on this model. You will also notice that this lawnmower comes with cruise control as standard. The engine draws gasoline from a fuel tank that has a capacity to hold up to 9.5 liters (2.5 US gallons). Similar models to this one include the Husqvarna YTH22V46XLS and the Husqvarna YTH2454 lawnmowers.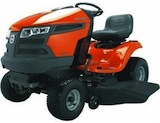 The Husqvarna YTH2246 has a mower deck that has a cutting width of 46 inches. This mower deck houses 2 blades inside a 12 gauge stamped steel deck. On the mower deck of the YTH-2246, you will notice 2 small plastic wheels. These are anti scalping wheels which prevent the mower deck from 'catching' on your lawn and scratching it. In other words, they keep the mower deck constantly elevated over the lawn you are cutting. The front wheels on this lawn mower have a diameter of 15 inches. The rear wheels are only slightly bigger, with a diameter of 18 inches.
While some people would consider the Husqvarna YTH2246 to be a fairly big machine, you will be glad to know that it still has a very tight minimum turning radius of just 16 inches. The drivers seat on the YTH2246 has a 13 inch high back to give you great back support. For dealing with the grass clippings on this machine, you can optionally purchase a rear bagger system to collect them or instead you can optionally use a mulching kit. Click Here to buy the Husqvarna YTH2246.
Return to Husqvarna from Husqvarna YTH2246 Tractor Lawnmower
Have Your Say! Leave A Review Do you love or hate this tractor? You can have your say below by leaving review.