The Ariens Pro 32 Snow Blower uses a 4 stroke Snow King engine designed and built by Tecumseh. This engine has a displacement of 0.36 liters which gives it a power output of 13 hp. This makes it much bigger and stronger than the likes of the Ariens Pro 26 Snow Blower or the Ariens Pro 28 Snow Blower. Power from the engine is transferred to the wheels via a Disc-O-Matic transmission that gives the Ariens Pro 32 snow thrower 6 speeds going forward and 2 for reversing. This Disc-O-Matic transmission uses extra strong aluminum for it's casing.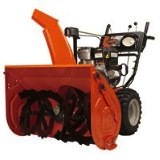 When snow first enters the Ariens Pro 32 snowblower it is broken up by the serrated steel auger that has a diameter of 0.41 m (16 inches). This then feeds snow toward the center of the bucket where the impeller is located. The impeller on the Ariens Pro 32 snow thrower has a diameter of 0.36 m (14 inches) and consists of 3 blades. This sucks the snow towards it and spits it out through the chute. The chute is constructed from strong steel that won't bend even under heavy loading. It can rotate through 200 degrees allowing the operator to always have the ability to channel snow away from the clearing area.
While the clearing width of the Ariens Pro 1332LE snowblower is 32 inches, the total width of the machine comes in at 0.88 m (34.5 inches). It has a total height from ground level to the top of the handles that comes in at 1.14 m (45 inches). The length of the machine is 1.56 m (61.5 inches). The total weight of the Ariens 1332LE comes to 135.2 kg (298 lbs). The Ariens 1332LE snow blower is built to a very high standard and should last a long time provided you take good care of it. This is why Ariens are happy to stand behind it with a 3 year warranty for individual consumers and a 90 day warranty for commercial operators using it. Click Here to buy the Ariens Pro 32 Snowblower.
Return to Ariens from Ariens Pro 1332LE Snow Blower
Have Your Say! Leave A Review Do you love or hate this tractor? You can have your say below by leaving review.