The Toro LX423 ride on tractor lawn mower is the entry model in the LX series of lawn tractors from Toro. The engine powering the LX 423 is a Courage model, which is built by Kohler. This 2 cylinder engine produces 20 hp, powering both the mower deck and wheels. This engine has a fully pressurized lubrication system that gives the mower a top speed of 8.9 kph (5.5 mph). While reversing, the Toro LX423's top speed is 3.7 kph (2.3 mph). Power is transferred to the wheels via a CVT transmission that makes it an automatic. This makes it incredibly easy to use, as their is no gear changing involved.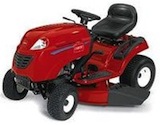 The Toro LX423 tractor lawn mower has a 42 inch mower deck. This deck consists of 2 small blades instead of just one large one. The main purpose behind this is so that the lawn you are mowing receives a very smooth and even cut. The mowing deck can be raised up to 4 inches above the cutting surface and it can be lowered to 1.5 inches above the cutting surface. The front axle is very strong and highly unlikely to break or fracture even under heavy and sudden loading thanks to the fact that it's constructed from cast iron.
The Toro LX423 comes with an optional bumper to protect the machine in the unlikely event that you crash it or bump off a tree or other obstacle. Many people choose the LX423 lawnmower over other brands due to the fact that it has a very small turning radius of just 0.38 m (15 inches). Don't forget that there is a large range of compatible implements that can be attached to this machine. These include a 42 inch dual stage snow blower as well as a 46 inch front blade. On top of this there are a range of utility carts, sweepers, spreaders and more attachments that can be used with this lawnmower. If you are looking for a bigger model, then check out the Toro LX427 or Toro LX468 lawnmowers. Click Here to buy the Toro LX423.
Return to Toro from Toro LX423 Lawn Mower
Have Your Say! Leave A Review Do you love or hate this tractor? You can have your say below by leaving review.