Many people find that the Toro LX427 ride on tractor lawnmower is very similar to the Toro LX423 lawnmower. This is because they both have the same sized mower deck of 42 inches. However, the main difference between the 2 mowers is the fact that the LX 427 has an hydrostatic transmission while the LX 423 has a CVT transmission. This transmission means that there is no need to change gears, instead you just need to press the gas pedal down harder to speed up or ease up on it to slow down. The top speed of the Toro LX 427 is 8.8 kph (5.5 mph) going forwards and 3.7 kph (2.3 mph) when reversing.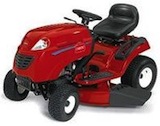 The Toro LX427 garden tractor lawn mower is powered by a 20 hp Kohler engine. This engine is fed gasoline from a gas tank that holds up to 11.4 liters (3 US gallons), allowing the operator over 2 hours of continuous operation before it needs to be refilled. As stated already, the mower deck has a cutting width of 42 inches. The mowing deck on the LX 427 uses 2 small blades, not 1 large one.
There are 3 different options for dealing with the grass clippings. The first is to simply discharge them out the side of the mower deck. However one of the drawbacks to this is that they can ruin your lawn if there are large clumps of grass allowed to rot into the ground. To prevent this, you can use a mulching kit that chops the clippings into a fine mulch that quickly decomposes and releases it's nutrients back into your lawn relatively evenly. The third option is to collect the clippings in a bagger attached to the rear of the LX 427. The bagger attachment at the back of the Toro LX427 can hold up to 6.5 bushels. The LX427 is more than just a lawnmower though, you are also able to attach implements like snow blowers, blades and carts to it. If you are looking a larger mower, then check out the Toro LX 468 garden tractor. Click Here to buy the Toro LX427.
Return to Toro from Toro LX427 Lawnmower
Have Your Say! Leave A Review Do you love or hate this tractor? You can have your say below by leaving review.