The Toro LX468 ride on garden tractor lawn mower has a larger mower deck and more powerful engine than the likes of the Toro LX423 and the Toro LX427 sit on lawnmowers. A Courage, 2 cylinder engine that is designed and built by Kohler provides the LX 468 with 22 hp. A hydrostatic transmission is used to transfer power from the engine to the wheels. This makes gear changing redundant. Instead you just have a pedal to control how fast you go, just like an automatic car.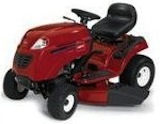 The mower deck on the Toro LX468 is engaged via an electric power take off. This turns the 2 blades. The cutting width of the mower deck on the LX 468 is 46 inches, but do keep in mind that the total width of the mower deck is about 10 inches higher due to the discharge flap located at the side. It has a top speed of 8.9 kph (5.5 mph). This makes it a perfect machine for cutting from 1 acre up to 5 acres. If you are cutting bigger areas than this, the you should try a larger Toro lawnmower.
Even though the Toro LX468 has a 46 inch cutting width, it still has a very low turning radius of just 0.38 m (15 inches), making it capable of working in tight and awkward areas. The LX 468 also comes with cruise control which makes cutting large, open areas easier to mow. Each front wheel measures 15″x6″ (15 inch diameter, 6 inch width) while each rear tire measures 20″x8″ (20 inch diameter, 8 inch width). Thanks to the fact that Toro makes a variety of attachments for this machine, it's much more than just a lawn mower. It can be used for clearing snow with a 46 inch front blade or 42 inch, 2 stage snowthrower attached. You can also attach things like utility carts, aerators and lawn sweepers to it.
Return to Toro from Toro LX468 Lawn Mower
Have Your Say! Leave A Review Do you love or hate this tractor? You can have your say below by leaving review.