The Husqvarna YTH23V48 tractor lawn mower has a 48 inch mowing deck. This mowing deck consists of 3 'Hi Performance' mower blades that are housed within the steel deck. The deck is engaged using an electric clutch. Once the blades are spinning and cutting grass, you have a few different options when disposing of the grass waste clippings. If you are lazy, then you might think about just simply discharging them out the side of the mower deck. However if you want the lawn to look neat, then you can attach an optional bagger to the rear. Using a bagger is a bit more time consuming though because you have to empty it each time it fills up. Also if the grass is wet, then the tube leading to the bagger may sometimes become clogged with grass. The third option is to use an optional BioClip mulching system to turn the grass clippings to mulch.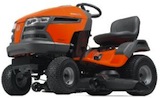 The engine on the Husqvarna YTH23V48 powering the mower deck (as well as the wheels) is an Intek model, designed and built by Briggs and Stratton. This engine is 0.724 liters in size and produces 23 horsepower. The engine is air cooled and is key started with the help of a 12 volt battery. This battery is then recharged using a 16 amp alternator.
The Husqvarna YTH23V48 comes with a very comfortable high back seat that is lined with vinyl. The YTH 23 V48 handily comes with an hourmeter so that you will always be able to accurately judge when you should next get it serviced. Larger models include the Husqvarna LGT24K54 and the Husqvarna YTH26V54 lawn mowers.If you own one of these garden tractor lawn mowers then please leave a review of it below to let people know what they should expect from it. Please remember to mention the different accessories and attachments you use with it. Click Here to buy the Husqvarna YTH23V48.
Return to Husqvarna from Husqvarna YTH23V48 Lawn Mower
Have Your Say! Leave A Review Do you love or hate this tractor? You can have your say below by leaving review.