The Husqvarna LGT24K54 ride on tractor lawn mower is powered by a twin cylinder engine designed and built by Kawasaki. This Kawasaki FR series engine has a displacement of 0.726 liters and produces 24 hp. This air cooled engine is started by a key start ignition that uses a 12 volt battery. This battery is charged through a 15 amp alternator when the engine is running. Power from the engine is transferred to the wheels through a Tuff Torq hydrostatic transmission. This makes the LGT 24 K54 lawnmower an automatic machine. It has a top speed of 8.4 kph (5.2 mph) going forward while in reverse it can manage a top speed of 4.7 kph (2.9 mph).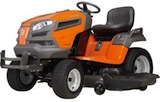 The Husqvarna LGT24K54 54 lawn tractor mower has a mower deck with a cutting width of 54 inches. This mower deck consists of 3 small blades which give a much more even and clean cut when compared to much older tractor lawnmowers that only have 1 big blade. The mowing deck is constructed from stamped steel and can be adjusted from 1.5 to 4 inches above the ground over 0.5 inch increments. For dealing with the grass waste, you have a number of options on this Husqvarna 54 inch mower. You can use a mulching kit to turn the grass clippings in to a nutritious mulch. However you might just want to discharge them on the grass without mulching them. You can also collect the grass clippings in a Triple bagger attachment that you can purchase separately.
The front of the mower deck has a number of small plastic wheels which act as an anti-scalping guard, preventing the mower deck from scraping and scratching the ground when it travels over uneven surfaces. Similar models to the Husqvarna LGT24K54 lawn mower are the Husqvarna YTH26V54 and the Husqvarna YTH23V48 lawnmowers. Click Here to but the Husqvarna LGT24K54.
Return to Husqvarna from Husqvarna LGT24K54 Lawn Mower
Have Your Say! Leave A Review Do you love or hate this tractor? You can have your say below by leaving review.