The Husqvarna RZ4623 zero turn lawn mower is a 23 hp machine with a 46 inch mowing deck. The RZ 4623 is also sometimes referred to by it's model number which is 966 67 82-01. The total width of the 46 inch mower deck actually comes to 1.73 m (68 inches) which is more than 20 extra inches of width. However this is mostly due to the plastic discharge flap which is used to guide the waste grass clippings away from the deck without flying up in the air and potentially hitting someone. The mower deck is constructed from 13 gauge steel and houses 2 small blades that spin at a maximum speed of 16,600 fpm (feet per minute) when measured at the tip of the blade.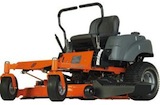 The mower deck on the Husqvarna RZ4623 is engaged using an electric clutch and can be raised through 3 inches from 1.5 inches to 4.5 inches above the ground using a spring assisted lever system. On the front of the mower deck you will find some small, plastic anti scalping wheels which keep the front edge of the deck from hitting into the ground and possibly scraping it. The mower deck has 6 different operating positions. The engine powering this mower deck is a 23 hp Kohler Courage model that has a displacement of 0.725 liters and is air cooled
This engine also powers the wheels on the Husqvarna RZ4623, passing power to the wheels through a EZT Hydro-Gear hydrostatic transmission that allows the operator to control the amount of power that each wheel receives independent of the other. If you are looking for a similar sized, but less powerful zero turn mower from Husqvarna, then you should check out the Husqvarna RZ4621 lawnmower, however if it's something bigger that you are after, then you should consider taking a look at the Husqvarna RZ4824F zero turn mower. Click Here to buy the Husqvarna RZ4623.
Return to Husqvarna from Husqvarna RZ4623 Zero Turn Lawn Mower
Have Your Say! Leave A Review Do you love or hate this tractor? You can have your say below by leaving review.