The Husqvarna RZ4621 zero turn lawnmower is very similar to the Husqvarna RZ4623 lawn mower as they both have the same sized 46 inch mower deck. However the RZ 4621 has a slightly less powerful 21 hp engine. This engine is an Endurance series model from Briggs and Stratton that is quite small with a displacement of just 0.54 liters. This 1 cylinder, air cooled engine transfers power to the wheels using a Hydro-Gear EZT hydrostatic transmission that makes the lawnmower an automatic. What is most important about this transmission is that it allows the driver to control how much power each rear wheel receives independently. It is this mechanism that allows you to turn this machine on a dime.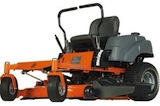 The Husqvarna RZ4621 has a 13.2 liter (3.5 US gallon) gas tank. The RZ 4621 zero turn lawn mower is sometimes referred to by it's model number 966 65 91-01. People purchasing this machine for use in the home will be glad to know that it comes with a 3 year limited warranty. However this 3 year limited warranty does not apply if it's being used by a commercial operator.
The Husqvarna RZ4621 zero turn lawn mower sits on large rear wheels that measure 18×8.5-8 (18 inch diameter, 8.5 inch width, 8 inch rim diameter) which carry most of the load and are responsible for driving the machine forward as well as turning it. The front wheels which are there just to balance the machine and carry the weight of the mower deck are much smaller, measuring 11×4-5 (11 inch diameter, 4 inch width, 5 inch rim diameter). The total weight of this zero turn mower from Husqvarna comes to 263.1 kg (580 lbs). This machine is most often to be found being used by commercial contractors due to the fact that it can cut up to 2.4 acres of grass per hour which would be otherwise wasted in most residential settings (unless of course you happen to own a massive garden). Click Here to buy the Husqvarna RZ4621.
Return to Husqvarna from Husqvarna RZ4621 Zero Turn Lawnmower
Have Your Say! Leave A Review Do you love or hate this tractor? You can have your say below by leaving review.