The Troy Bilt Flurry 1400 Snow Blower is the smallest snow thrower available from Troy Bilt. It's so small that it uses an 11 amp electric motor designed and built by Troy Bilt themselves instead of a gasoline engine that you normally see on most snow blowers. However this will still be adequate for a lot of homeowners' needs. As it's an electric snowblower, you would be right in guessing that it's started electrically also. The clearing width of the this model is only 0.36 m (14 inches), but this is usually fine for a lot of people. It's clearing height measures 0.24 m (9.5 inches).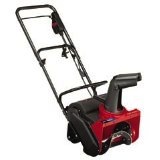 The Troy Bilt Flurry 1400 snow blower is propelled forward by it's rubber auger that simultaneously breaks up the snow, shoots it through the chute and grips the ground surface that it's clearing in front of it. As there is no impeller on the Flurry 1400 snow thrower, this is just a single stage snow blower. The auger has a diameter of 0.17 m (6.75 inches). The chute on the snowblower used to angle the snow away from where it's clearing is built from a polymer material that helps to prevent clogging and any build up of snow.
The pitch of the chute on the Troy Bilt Flurry 1400 snow blower is controlled manually so that the operator can more accurately control the height and distance of where they are aiming the snow to land. This 14 inch snow blower from Troy Bilt uses polymer skid shoes to prevent the cutting edge of the machine from coming into contact with the ground surface and thus preventing any unnecessary scrapes or damage to it. This machine does not have hand warmers, but instead comes with rubber coated handles to help prevent your hands from getting too cold. Click Here to buy the Troy Bilt Flurry 1400 Snow Blower.
Return to Troy Bilt from Troy Bilt Flurry 1400 Snow Blower
Have Your Say! Leave A Review Do you love or hate this tractor? You can have your say below by leaving review.