The Snapper LT2346AWS tractor lawnmower is also commonly known as the Snapper LT130AWS. This lawn mower is incredibly similar to both the Snapper LT2342 and the Snapper LT2446 lawnmowers. One of the reasons for this is that it's powered by a Extended Life Series engine from Briggs and Stratton that produces 23 hp. This 2 cylinder engine has overhead valves. The engine is started by a 12 volt battery that gives the engine 230 cold cranking amps. The fuel tank can hold up to 6.8 liters (1.8 US gallons) of gas, which is low enough to indicate that this lawnmower is mostly used by individual in a residential setting.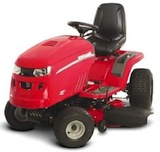 Thankfully there is no need for constant gear changing on the Snapper LT2346AWS (aka Snapper LT 130 AWS) as it uses a hydrostatic transmission, making this lawnmower an automatic where the speed (as well as forwards and reversing) is controlled by a foot pedal. This hydrostatic gearbox gives the LT 2346 AWS a top speed of 9 kph (5.6 mph). This transfers power to the rear turf wheels which offer great traction and measure 20×8-10 (20 inch diameter, 8 inch width, 10 inch rim diameter).
The cutting deck on the Snapper LT2346AWS garden tractor lawn mower has a width of 46 inches. This mower deck consists of 3 small blades instead of just one large one which makes for a more even and smooth cut. The drivers seat on the LT 2346 AWS (Snapper LT130AWS) has a high back and quality suspension which means that if you have to operate for long periods, you won't get too tired or uncomfortable. If you are someone purchasing this lawnmower for commercial purposes, it comes with a 1 year warranty for the engine, but only a 90 day warranty for the machine itself. However if you are purchasing the lawnmower for personal residential use only, it comes with a 2 year limited warranty. Click Here to buy the Snapper LT2346 AWS.
Return to Snapper from Snapper LT2346AWS Garden Tractor
Have Your Say! Leave A Review Do you love or hate this tractor? You can have your say below by leaving review.