The Husqvarna YTH2348 garden tractor lawn mower is very similar to the Husqvarna GTH2648 tractor lawnmower as they both have the same cutting width of 48 inches. However the YTH 2348 has a much less powerful engine which means that it is not quite as capable of cutting long grass, however it's still an incredibly useful machine. The engine powering it is a gasoline Intek model from Briggs and Stratton. This twin cylinder model powers the wheels by first passing power through a hydrostatic transmission that makes this lawn mower an automatic, with it's speed completely controlled by the foot pedals.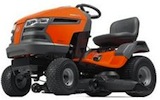 The Husqvarna YTH2348 tractor lawnmower has a 48 inch mower deck. This deck houses 3 blades which work in unison to give all lawns an incredibly smooth and clean cut. While some people choose to discharge the grass clippings out the side of the mower deck through a plastic discharge chute, you also can collect them in an optional bagger system attachment. However it can be a big time waste to be constantly emptying the bagger of grass clippings. Something that requires far less time is using a mulcher plug which keeps the grass clippings inside the mower deck where they are thoroughly shredded up into a highly nutritious mulch.
The minimum turning radius of the Husqvarna YTH2348 is very low at just 18 inches, making it ideal in even small gardens with many difficult to manoeuvre areas. The mower deck on the YTH 2348 can be raised and lowered from a cutting height of 1 inch to 3.5 inches above the ground. When shipping, the machine tips the scales at 275.3 kg (607 lbs). If you have ever owned or operated the YTH2348, then please leave a review of it below to let others know what you think of it (both good and bad points). Click Here to buy the Husqvarna YTH2348.
Return to Husqvarna from Husqvarna YTH2348 Lawn Mower
Have Your Say! Leave A Review Do you love or hate this tractor? You can have your say below by leaving review.