The Troy Bilt Storm 2620 Snow Blower is a quality snowblower from Troy Bilt that has a clearing width of 0.66 m (26 inches). The machine is powered by a 0.21 liter engine that is manufactured by Troy Bilt themselves. This 4 stroke engine handily powers this dual stage snowblower. To start the machine, you have a choice of 2 options. The first is using the traditional pull start, recoil system. However the second option of using the push button, electric starter is a lot easier.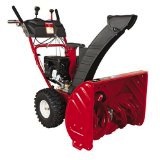 Power from the engine in the Troy Bilt Storm 2620 snowblower is transferred to the wheels by an all wheel drive transmission. This gives the Storm 2620 snow thrower 6 speeds when it's traveling forwards and 2 for reversing. The wheels on the machine are 0.13 m (5 inches) wide and are specially designed for dealing with slippy conditions. The wheels are X Trac tires. The diameter of these X Trac tires comes to 0.38 m (15 inches). As the Troy Bilt Storm 2620 snow thrower is a dual stage snowblower, it has both an auger and an impeller. The auger first breaks up the snow and has a diameter of 0.3 m (12 inches) before the snow is then sucked up and fired out of the chute by the impeller. The impeller also has a diameter of 0.3 m (12 inches). Both the auger and impeller are constructed from steel to give them great durability. The auger is also serrated to work more efficiently. While the clearing width of the 2620 snowblower is 0.66 m (26 inches), the intake height measures 0.53 m (21 inches) allowing it to easily tackle large snow drifts. If you are looking for a snow thrower that's a little smaller, then consider the Troy Bilt Squall 2100 Snow Blower or even the Troy Bilt Storm 2410 Snow Blower. Click Here to buy the Troy Bilt Storm 2620 Snow Blower. Return to Troy Bilt from Troy Bilt Storm 2620 Snow Blower
Have Your Say! Leave A Review Do you love or hate this tractor? You can have your say below by leaving review.