The Snow Joe SJ622 Snow Blower is quite different to most other Snow Joe snow throwers like the Snow Joe SJ905 Snow Blower for instance. It is a single stage machine, but more importantly it is electric powered as opposed to using a gasoline engine like most of the other machines from Snow Joe. It has a 13 amp electric motor and needs to plugged in to operate it. Probably the biggest advantage of this snowblower is the fact that it starts so easily when compared to gasoline powered snowblowers.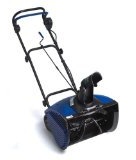 The Snow Joe SJ622 single stage snow blower is capable of moving up to 362.9 kg (800 lbs) of snow every minute. This is a huge amount, especially when you consider that the SJ622 has a clearing width of only 0.48 m (19 inches) and an intake height of just 0.28 m (11 inches). The interesting thing about this machine is that the wheels provide no propulsion whatsoever to it. Instead all power is diverted to the auger as it provides the propulsion to the snow blower as well as clearing the snow. The auger drives the machine by gripping the ground in front of it as it spins and this pulls the machine forward. As the machine is in constant contact with the ground, the auger has been made from rubber to prevent if from damaging the surface it's traveling over.
But the auger on the Snow Joe SJ622 single stage snow thrower is also responsible for breaking up the snow in front of it and 'blowing' it from the clearing area. It consists of 4 individual blades to easily handle large capacities of snow. The snow leaves the housing and is channeled away from the clearing area by a plastic chute which can turn up to 180 degrees. The SJ622 can throw snow up to 6.1 m (20 feet). Click Here to buy the Snow Joe SJ622 Snowblower.
Return to Snow Joe from Snow Joe SJ622 Snow Blower
Have Your Say! Leave A Review Do you love or hate this tractor? You can have your say below by leaving review.