The Snapper M1227E Snow Blower is bigger than other Snapper snow throwers like the Snapper SS521E Snow Blower or the Snapper M924E Snow Blower. However it's not quite as big as the Snapper M1429E Snow Blower, which has a 27 inch clearing width. The M1227E has a clearing width of 0.67 m (27 inches), while it's intake height is 0.5 m (19.5 inches). Inside the snow thrower is both the auger and the impeller. The snow first hits the auger, where it's notched aluminum blades quickly shred it into smaller pieces. The impeller then sucks it towards the center of the housing where it then breaks it up further and sends it flying out the chute. The auger has a diameter of 0.3 m (12 inches) and the diameter of the impeller is also 0.3 m (12 inches). The impeller is made up of 3 steel blades. The total weight of the machine comes to 79.8 kg (176 lbs) which is very light for a 27 inch, 2 stage snowblower.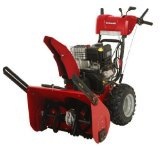 The engine powers this system as well as propelling the M1227E, 27 inch, dual stage snow blower forward is a Briggs and Stratton 4 stroke. This provides up to 11.5 ft-lbs of torque. Power from this engine is then transferred to the wheels via a friction disc drive gear box that gives the Snapper M1227E snow blower 6 gears when traveling forwards and 2 gears when it's reversing. The wheels on the machine are Arctic Trac wheels that offer the machine fantastic traction. The wheels have a width of 0.12 m (4.8 inches) and a diameter of 0.41 m (16 inches) which help the M1227E maintain a good grip even in very slippy conditions.
The Snapper M1227E snow blower comes with a 2 year warranty to those purchasing the machine for personal, residential use. However if you are planning on purchasing it for commercial use, then the warranty only covers the first 90 days. Click Here to buy the Snapper M1227E Snowblower.
Return to Snapper from Snapper M1227E Snow Blower
Have Your Say! Leave A Review Do you love or hate this tractor? You can have your say below by leaving review.