The Poulan PO15538LT garden tractor lawn mower is part of a range of Poulan machines that also includes the Poulan PO17542LT, the Poulan PO19542LT and the Poulan PO12530LT garden tractor mowers. The PO 15538LT mower has a mower deck with a cutting width of 38 inches. When cutting lawns with this mower, the default option is to just discharge the clippings out the side of the mower deck. This is fine. However if the grass is particularly long, then it will look very unsightly to have lots grass clippings spread all over your lawn. If you don't want lots of grass clippings everywhere, then your best option is to purchase the bagger attachment that can be attached to the rear of the tractor to collect them.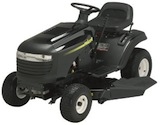 Another option on the Poulan PO15538LT is to use a mulching plug. This keeps the grass clippings inside the deck for longer, which means they get chopped up far more thoroughly, allowing them to decompose much quicker. The engine that powers the mower deck and the wheels produces 15.5 hp and is started using a 12 volt battery. The Briggs and Stratton engine gets it's fuel from a tank that can hold up to 4.7 liters (1.25 US gallons) of gasoline.
Using the Poulan PO15538LT is fairly easy. This is thanks to it's relatively low minimum turning radius of just 18 inches. It also has a comfortable padded seat with a 9 inch back. The PO 15538LT has 5 speeds traveling forwards and just 1 for reversing. The mower deck is engaged using a manual cable lever. This model is quality machine for mowing lawns that range in size from 0.5 acres up to a maximum of 3 acres. If you are mowing anything bigger, then you are best off using a mower with a bigger mower deck that has a wider cutting width. Click Here to buy the Poulan PO15538LT.
Return to Poulan from Poulan PO15538LT Garden Tractor Lawn Mower
Have Your Say! Leave A Review Do you love or hate this tractor? You can have your say below by leaving review.