The Murray 27 Inch Dual Stage Snow Blower is a lot more powerful than it's little brother, the Murray 21 Inch Single Stage Snow Blower. As this is a dual stage snow blower is has both an auger and an impeller to easily deal with most snow conditions. The snowblower is powered by a Briggs and Stratton engine. This engine has a displacement of 0.25 liters and is a four stroke model. To start the engine most people just plug it into the mains electricity and simply press the 120 volt electric starter button. However not everybody starts this snowblower beside a plug socket, so you can also start it by using the pull cord, recoil system.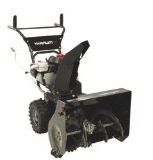 The Murray 27 inch 2 stage snow thrower first starts to break up snow when the serrated steel auger cuts into the snow in front of it. As the auger is cutting up the snow, it is also simultaneously moving it towards the center of the housing, where the impeller is located. The impeller consists of 3 steel blades. This impeller spins very quickly and sucks up the snow, while at the same time breaking it up further. It then shoots the snow out through the chute at high speeds. The impeller on the Murray 27 inch snow thrower has a diameter of 0.3 m (12 inches). This Murray snowblower can throw snow up to 10.7 m (35 feet).
The chute on the Murray 27 inch dual stage snow blower is made from plastic instead of metal. The advantage of plastic is that it leads to less blockages. However the major disadvantage of a plastic chute is that it is not nearly as strong as a metal one. The chute is rotated via a hand crank and can turn through 190 degrees. While the clearing width of the snow blower is 0.69 m (27 inches), it's intake height is 0.53 m (21 inches). The total weight of this machine comes in at 91.6 kg (202 lbs). Click Here to buy the Murray 27 Inch Dual Stage Snow Blower.
Return to Murray from Murray 27 Inch Dual Stage Snow Blower
Have Your Say! Leave A Review Do you love or hate this tractor? You can have your say below by leaving review.