The MTD Gold 17AC2ACG004 zero turn lawnmower is not quite as powerful as the likes of the MTD Gold 17AF2ACP004, but that's fine as it is intended for smaller jobs anyway. The engine powering the MTD Gold 42″ zero turn lawn mower is a Briggs and Stratton Intek engine that offers full pressure lubrication to prevent wear during use. This 4 stroke engine is a 1 cylinder that comes with an oil filter. It's total displacement comes to 0.503 liters and it is started electronically using a battery.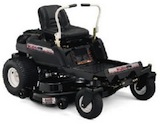 The mower deck on the MTD Gold 17AC2ACG004 that the engine powers has a cutting width of 42 inches. This mower deck uses 2 blades that work together to give much more even cut than a large single blade working alone would. The deck is made from stamped steel and can be raised and lowered from a high of 4 inches above the ground to a low of just 1.5 inches above the ground in 0.5 inch increments, giving 6 height settings in total. The deck is raised and lowered using a manually operated, spring assisted lever. The mower deck on this model is engaged using an electric PTO.
As the MTD Gold 17AC2ACG004 is a zero turn lawnmower, the rear wheels both power it and steer it. The rear wheels also carry the bulk of the weight of the machine. This is why they are much larger that the front wheels. The rear wheels each measure 18×8.5 (18 inch diameter, 8.5 inch width) while the front wheels each measure 11×4 (11 inch diameter, 4 inch width). You will notice that the only purpose of the front wheels is to keep the machine balanced and to prevent the mower deck from scraping the lawn as you travel over it. The MTD Gold 42″ mower comes with a 2 year limited warranty to people purchasing it for personal use. Click Here to buy the MTD Gold 17AC2ACG004.
Return to MTD from MTD Gold 17AC2ACG004 Zero Turn Lawnmower
Have Your Say! Leave A Review Do you love or hate this tractor? You can have your say below by leaving review.