The Husqvarna YTH2042 garden tractor lawn mower is a 20 hp machine with a mower deck that has a cutting width of 42 inches. A very similar model to this one is the Husqvarna LTH18538 lawn mower except that it has a smaller mowing deck, while the Husqvarna YTH21K46 is also quite similar except it has a larger mower deck. The engine that powers the YTH 2042 is a 0.54 liter Intek model, built by the team at Briggs and Stratton. This 20 hp, single cylinder engine is air cooled. The engine gives the mower a maximum speed of 8.4 kph (5.2 mph).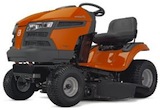 The Husqvarna YTH2042 uses a comfortable ergonomic steering wheel which makes operating it for long periods much more comfortable than older steering wheels that didn't fit the users hands so well. While the driver seat is not exactly massive, it is still comfortable enough for many hours of continuous operation. As mentioned before the cutting width of the mower deck is 42 inches, although the total width of the mower deck actually comes to 1.24 m (49 inches) due to the discharge flap protruding out the side of the deck. Like all mower decks on Husqvarna lawnmowers, this one is constructed from stamped steel. It can be raised from as low as 1.5 inches above the ground up to 4 inches above the ground in half inch steps.
The Husqvarna YTH 2042 tractor lawnmower is a very capable machine in most gardens ranging in size from about 0.5 to 4.5 acres. It is also quite useful around gardens that have an abundance of tight corners and hard to navigate areas thanks to the fact that it has a minimum turning radius of just 16 inches. If you own one of these 42 inch, 20 hp Husqvarna lawn mowers, then please leave a review of it below detailing what you like and don't like about it as well as what attachments you use with it. Click Here to buy the Husqvarna YTH2042.
Return to Husqvarna from Husqvarna YTH2042 Lawnmower
Have Your Say! Leave A Review Do you love or hate this tractor? You can have your say below by leaving review.