The Ariens Platinum ST30DLE Snow Blower is a very well designed and powerful snow thrower. It also has a smaller brother, the Ariens Platinum 24 Snow Blower. The ST30DLE is built using a Briggs and Stratton Polar Force engine that has a displacement of 0.34 liters. This 4 stroke engine is specifically designed for extreme conditions. It has been tested in temperatures as low as -28.9 degrees Celsius (-20 Fahrenheit). This engine transfers power to the wheels via a Disc-O-Matic, auto traction control transmission. This transmission is encased in extra strong aluminum and gives the ST30DLE 6 different speeds when traveling forwards and  2 speeds while reversing.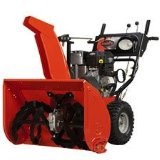 The Ariens Platinum ST30 Snow Blower is a dual stage machine that first uses it's 0.36 m (14 inch) auger to crush and break up the snow while feeding it towards the center of the 'bucket' so that the impeller can suck it up into the chute and fire it away from the clearing area. The impeller is constructed from 3 steel blades and has a diameter of 0.36 m (14 inches). The chute that channels the discharged snow away from the machine can rotate up to 200 degrees thanks to it's Quick Turn technology. It also has a deflector at the top of the chute to more accurately control where you are sending the expelled snow.
The Ariens Platinum ST30DLE Snow Blower has interlocking controls, meaning that you can operate it with just one hand, leaving the other hand free to adjust the chute. This is a real time saver, especially if you have to clear snow early in the morning. The halogen headlights on the Ariens Platinum ST30DLE snow thrower allow you to operate it even when it's dark. If you are looking for a smaller, less robust snow blower, then check out the Ariens Deluxe 28 Snow Blower or the Ariens Deluxe 30 Snow Blower. The total weight of the ST30DLE comes to 117.9 kg (260 lbs). Click Here to buy the Ariens Platinum ST30DLE Snow Blower.
Return to Ariens from Ariens Platinum ST30DLE Snow Blower
Have Your Say! Leave A Review Do you love or hate this tractor? You can have your say below by leaving review.