The Ariens Compact 24 Snow Blower is a step up from the smaller Ariens Compact 22 Snow Blower while obviously the Ariens Compact 26 Snow Blower is the bigger version of this model. The Ariens Compact 24 snow thrower is powered by a 0.21 liter Briggs and Stratton snow series engine. This 4 stroke engine provides the snow thrower with enough power to handily send snow up to 12.2 m (40 feet) away from the clearing point. If you are close to a plug, you can start this 24 inch Ariens snow blower at the touch of a button, but if not, there is a recoil, pull cord as back up.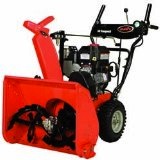 The Ariens Compact 24 snow blower has a clearing width of 0.61 m (24 inches), while the height of the 'bucket' comes in at 0.44 m (17.5 inches), although the machine can actually handle slightly deeper depths of snow provided that it's not too compacted. The capacity of the fuel tank is 2.7 liters of gasoline, allowing for a reasonably long operating time, before it needs to be brought in for refueling. Thanks to it's Disc-O-Matic transmission, the Ariens Compact 24 snow thrower has 6 gears when traveling forward and 2 for reversing.
All major loading bearing components of the Ariens Compact 24 snow blower are constructed from steel to maximize their lifetime. The auger is 0.36 m (14 inches) in diameter and has a serrated edges to easily tackle all snow types. The impeller also has a diameter of 0.36 m (14 inches) and is made up of 3 blade that suck snow from the 'bucket', into the chute and shoot it away from the clearing area. The chute is made from steel and can rotate through 205 degrees. It also has a deflector at the top and both the chute and deflector are manually controlled. All in all this is a high quality machine from Ariens that is more than enough for most house holds. It's also sometimes known as the Ariens ST24LE snowblower. Click Here to buy the Ariens Compact 24 Snow Blower.
Return to Ariens from Ariens Compact 24 Snow Blower
Have Your Say! Leave A Review Do you love or hate this tractor? You can have your say below by leaving review.