The Toro Power Clear 180 Snow Blower is a step up from the smaller and less powerful electric Toro 1800 Power Curve Snow Blower. It is powered by a Toro designed and built Toro RTek engine. This 4 stroke engine has a displacement of 0.087 liters and uses a choice of either a recoil starting system or an electric starting system. It's fuel tank can hold up to 1.7 liters of fuel allowing users to operate for a considerable period before it needs refueling. Larger versions of the Toro Power Clear 180 Snow Thrower include the Toro Power Clear 210 Snowblower and the Toro Power Clear 221Q Snow Thrower.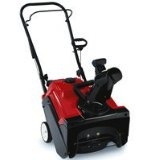 The auger on the Toro 180 snow blower is made from rubber which may not be music to everyone's ears. It's a Power Curve Rotor type auger. A lot of people would prefer a metal auger. However this rubber auger is very strong and can tackle most snow types. The clearing width of the Toro 180 comes in at 0.46 m (18 inches) which is adequate for most homeowners whose driveway is not too big. The plastic deflector chute on the Toro Power Clear 180 is rotatable by up to 180 degrees so that you can throw snow in pretty much any direction you please. The total weight of the machine comes in at 28.3 kg (58 lbs) if you buy it with an electric starter. But if you buy it with a recoil starting system, it's total weight is obviously a little less and comes in at 24.5 kg (54 lbs). It's recommended that you buy the Toro 180 Power Clear snow thrower with the 120 volt AC electric starter as there is nothing worse that trying to use the pull start mechanism on a cold winter's morning. This model also comes with a 2 year warranty so you never have to worry too much about it breaking down for the first couple of years. Click Here to but the Toro Power Clear 180 Snow Blower. Return to Toro from Toro Power Clear 180 Snow Blower
Have Your Say! Leave A Review Do you love or hate this tractor? You can have your say below by leaving review.