The Toro Titan ZX5000 zero turn lawn mower is a very large and powerful zero turn mower. It gets it's power from a Briggs and Stratton Professional Series gasoline engine. The 2 cylinder motor has a full pressure lubrication system to prevent the moving parts from getting damaged. It uses a dual sealing air filter to purify the air intake of dust and other particulate matter that can potentially clog the combustion chambers. The total size of the 4 stroke engine comes to 0.656 liters. When buying the ZX 5000 new, the engine comes with a 3 year limited warranty. The total power output from the engine is 22 hp.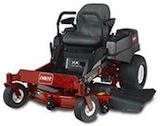 As the Toro Titan ZX5000 is a zero turn lawnmower, it uses a Hydro Drive ZT 2800 dual hydrostatic transmission which allows the operator to control how much power each rear wheel receives independent of the other. The operator controls the speed and direction of the Toro 50″ zero turn mower using the lap bars in front of him (there is no steering wheel or accelerator pedal). The rear wheels on the ZX 5000 are bigger than the front wheels, measuring 20×8.5 (20 inch diameter, 8.5 inch width). The front wheels which really only provide support to the mower deck are much, much smaller, measuring 11×4 (11 inch diameter, 4 inch width). Other models that are similar to this one from Toro include both the Toro Titan ZX5020 and the Toro Titan ZX4820 zero turn lawnmowers.
The 50 inch mower deck on the Toro Titan ZX5000 houses 3 blades. The blades can be raised and lowered over 3 inches from a high of 4.5 inches to a low of 1.5 inches above the ground. The blades receive power from the engine through a belt drive system which is engaged using an electric PTO. Using the ZX 5000 mower for extended periods is fairly easy on the operator thanks to the high back seat with seat springs which act as a suspension. Click Here to buy the Toro Titan ZX5000.
Return to Toro from Toro Titan ZX5000 Zero Turn Lawn Mower
Have Your Say! Leave A Review Do you love or hate this tractor? You can have your say below by leaving review.