The engine powering the Toro TimeCutter Z5035 zero turn lawnmower is a twin cylinder Kawasaki. This engine features an internally vented carburetor and a full pressure lubrication system. The engine produces an output of 24 hp. It has a fuel capacity to hold 11.4 liters (3 US gallons). The engine is a 4 stroke that comes with a 3 year limited warranty. The engine transfers power to the wheels of the Z 5035 through a dual hydrostatic transmission. Power is directed to each wheel through the lap bars. By pushing the lap bars in alternative directions, you are able to execute zero radius turns. There are a number of similar models to this one that include the Toro TimeCutter SS5000, the Toro TimeCutter SS5060 and the Toro TimeCutter Z5060 lawnmowers.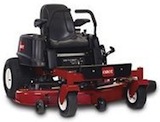 The max speed of the Toro TimeCutter Z5035 is 11.3 kph (7 mph) traveling forwards, while in reverse it has a top speed of 5.5 kph (3.4 mph). The mower deck on the Z 5035 lawnmower has a cutting width of 50 inches. It is made from stamped steel which means that it has far less potential weak points when compared to a welded or a bolted steel deck. The total width of the deck comes to 64 inches, due to discharge chute that is on the side of the deck which prevent grass clippings (and other debris) from flying everywhere.
The mower deck on the Toro TimeCutter Z5035 can be raised and lowered from a low of 1.5 inches up to 4.5 inches above the ground. A belt drive system is used to power the Toro TimeCutter 50″ mower deck. This is engaged using an electric PTO. For dealing with the grass clippings, many people just leave them lying on the grass. However, remember that you also have the option of using a Recycler mulching kit to turn the clippings into a fast rotting mulch. You can also collect the clippings in a rear attached twin bagger. Click Here to buy the Toro TimeCutter Z5035.
Return to Toro from Toro TimeCutter Z5035 Zero Turn Lawnmower
Have Your Say! Leave A Review Do you love or hate this tractor? You can have your say below by leaving review.