The Toro Power Shovel is a snow removal device, but it's quite unlike regular Toro snow blowers, like the Toro CCR 2450 GTS snow blower or the Toro 1800 Snow Blower. This is a much smaller snow thrower, but it's also a lot more mobile too. Firstly you need to get to grips with the fact that it doesn't remove that much snow compared to regular snow blowers. It removes a reasonable amount for it's size as it can get rid of 136 kg (300 lbs) per minute. This is actually pretty good, considering it's hand held and has a clearing width of just 0.3 m (12 inches). It's cutting depth is also quite heavily reduced compared to other models, the Toro Power Shovel can only cut into a depth of 0.15 m (6 inches) of snow, whereas other Toro snow throwers can deal with a lot deeper depth.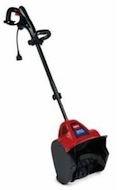 So the Toro Power Shovel is a very small piece of equipment, but it's exactly the type of snow removal device that you might want around hard to reach pathways and patios, instead of big clunky snow blowers. You don't need petrol for the Toro Power Shovel either. It runs on electricity through it's 7.5 amp motor. This means that it starts instantaneously and you don't have to worry about getting the oil mix right.
The motor powers a single 2 blade rotor that gives the entire machine the very low weight of 5.9 kg (13 lbs) which will prevent your arms from tiring if you are using it over long periods of time. You'll also be pleased to know that Toro stand proudly behind their Toro Power Shovel's quality by offering a 2 year warranty on it. The great added bonus of the Power Shovel is that you can change the rotor and use a broom instead, so that when the snow has melted you can use it as an electronic sweeper and broom around the garden. Click here to buy the Toro Power Shovel.
Return to Toro from Toro Power Shovel
Have Your Say! Leave A Review Do you love or hate this tractor? You can have your say below by leaving review.