The Simplicity Prestige lawn mower is very similar to both the Simplicity Legacy XL and the Simplicity Conquest lawnmowers. It is powered by a Command engine that is designed and built by Kohler. This 2 cylinder engine provides the Prestige garden tractor with 27 hp. Power from the engine gets to the wheels by being transferred through a hydrostatic Tuff Torq transmission. This means that there is no gear changing on this lawnmower. Instead you just need to use the accelerator to either speed up or slow down.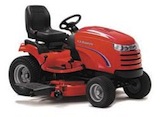 There is a choice of mower deck on the Simplicity Prestige. You can go for a 46 inch mowing deck or a 54 inch mower deck. The deck is floating with a number of anti-scalping wheels on the leading edge which means that the mower deck follows the contours of the ground you are traveling over, giving your lawn a very even cut. The mower deck can be raised and lowered electronically which means that it has an infinite number of height settings. This always allows you to get the exact cutting height that you want. The minimum turning radius of the Prestige ride on lawnmower is very impressive at just 18 inches. If you are cutting a large open area of grass, your foot can easily get tired maintaining your speed at a constant level. That's why it's a good thing that this lawnmower has cruise control as standard.
The Simplicity Prestige has a fuel tank that can hold up to 15.1 liters (4 US gallons) of gasoline. The top speed of this lawnmower is 9.8 kph (6.1 mph) when traveling forwards, while in reverse it has a top speed of 4.8 kph (3 mph). The height of the mower deck can be adjusted from a low of 1 inch above the ground up to 3.75 inches above the ground. Click Here to buy the Simplicity Prestige.
Return to Simplicity from Simplicity Prestige Tractor Lawnmower
Have Your Say! Leave A Review Do you love or hate this tractor? You can have your say below by leaving review.