The Simplicity Conquest garden tractor lawnmower is similar in a lot ways to both the Simplicity Legacy XL and the Simplicity Prestige lawn mowers except that it's not quite as powerful. The Conquest has a choice of engines when you are buying it brand new. The first is a Courage engine built by Kohler which provides 23 hp. The second choice is a Briggs & Stratton Professional Series Lawn Mower that gives 24 hp. Both engines are started by a 12 volt battery that provides 240 cold cranking amps. Both engines transfer power to the wheels via a Tuff Torq K 66 hydrostatic transmission, which means no gear changing during operation.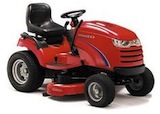 This hydrostatic transmission gives the Simplicity Conquest a top speed of 9.8 kph (6.1 mph) going forwards. When it's reversing, it has a top speed of 4.8 kph (3 mph). Speed is controlled by a foot operated accelerator. The minimum turning radius of the Conquest is just 18 inches which makes operating it in very confined spaces a breeze. The rear tires measure 23×10.5-12 (23 inch diameter, 10.5 inch width, 12 inch rim diameter) while the front tires measure 16×6.5-8 (16 inch diameter, 6.5 inch width, 8 inch rim diameter).
The mower deck on the Simplicity Conquest with the Kohler engine has a cutting width of 46 inches. The mower deck on the model with the Briggs & Stratton engine has a cutting width of 52 inches. Each mower deck consists of 3 blades instead of one large one which makes for a much better cut. The mower deck on both models can be raised and lowered from 1 inch above the ground to 3.75 inches above the ground. The raising and lowering of the mower deck is done electrically which means that it has an infinite number of cutting heights. The Conquest has cruise control as standard as well as an hourmeter so you can tell when next to get it serviced. Click Here to buy the Simplicity Conquest.
Return to Simplicity from Simplicity Conquest Garden Tractor Lawnmower
Have Your Say! Leave A Review Do you love or hate this tractor? You can have your say below by leaving review.