The Poulan PO17542LT garden tractor lawn mower has a mower deck with a 42 inch wide cutting width. The engine that powers the mower is a 17.5 hp air cooled Briggs and Stratton model. This gasoline engine has a displacement of 0.5 liters and has just 1 cylinder. The engine is keystarted using a 12 volt battery. The engine is kept lubricated using a splash lubrication system from an oil reservoir with a capacity to hold up to 1.4 liters of oil. The fuel tank supplying the engine with gasoline has a max capacity of 5.7 liters (1.5 US gallons).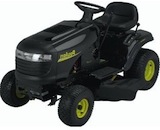 The Poulan PO17542LT varies it's speed through a manual gearbox. This gearbox has 6 speeds going forwards and 1 for reversing. The Peerless transmission gives the PO17542 LT a top speed of 8.9 kph (5.5 mph) going forwards and 2.7 kph (1.7 mph) when reversing. As this is a 2WD model, power is transferred through the rear wheels of the tractor mower. The rear wheels measure 20×8-8 (20 inch diameter, 8 inch width, 8 inch rim diameter), while the front wheels which are used for steering are smaller, measuring 15×6-6 (15 inch diameter, 6 inch width, 6 inch rim diameter). There are other models like this one in the same range from Poulan are the Poulan PO19542LT and the Poulan PO12530LT garden tractors.
As previously mentioned, the Poulan PO17542LT has a 42 inch mower deck. Inside the mowing deck are 2 blades. The mowing deck is constructed from stamped steel which means that there are fewer potential weak points on it when compared to a welded or bolted steel deck. The grass clippings are discharged out the side of the deck. It can be raised and lowered in 0.5 inch steps, from a low of 1.5 inches to a high of 4 inches above the ground. Raising and lowering is done by a spring assisted, hand operated lever mounted on the fender. Click Here to buy the Poulan PO17542LT.
Return to Poulan from Poulan PO17542LT Tractor Lawn Mower
Have Your Say! Leave A Review Do you love or hate this tractor? You can have your say below by leaving review.