The Husqvarna YTH2242 garden tractor lawn mower is similar in many ways to both the Husqvarna YTH2454 and the Husqvarna YTH2246 tractor lawnmowers except that the YTH 2242 has a far smaller cutting width than either of these 2 lawnmowers. The engine powering this lawnmower, like most Husqvarna lawnmowers is a Briggs and Stratton V twin. This gasoline engine uses a full pressure lubrication system and provides the mower with 22 hp to power the wheels and cutting deck. The engine has a total displacement of 0.721 liters. It gets it's fuel from a tank that can hold up to 11.4 liters (3 US gallons) of gasoline.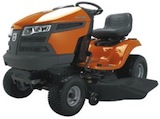 The mower deck on the Husqvarna YTH2242 lawnmower has a cutting width of 42 inches and houses 3 small blades. On the leading edge of the mowing deck, you will notice 2 small wheels. These are called anti-scalping wheels and perform an important function; they keep the mower deck in an elevated position constantly, preventing it from scraping the ground in front of it (which often leaves very unsightly marks). The YTH 2242 uses a hydrostatic transmission to power the wheels. The minimum turning radius of this machine, when using brakes comes to 18 inches.
The mower deck on the Husqvarna YTH2242 can be lowered all the way down to a minimum cutting height of 0.5 inches above the ground, while it has a maximum cutting height of 3.5 inches. Cutting large areas of grass, like football fields or parks is easy on the YTH 2242 as you can optionally engage the cruise control. Don't forget that you have the option of collecting the grass clippings by purchasing the bagger attachment for the rear of the lawnmower, or you can buy a mulcher plug instead to turn the clippings in to a nutritious mulch. Click Here to buy the Husqvarna YTH2242.
Return to Husqvarna from Husqvarna YTH2242 Tractor Lawn Mower
Have Your Say! Leave A Review Do you love or hate this tractor? You can have your say below by leaving review.